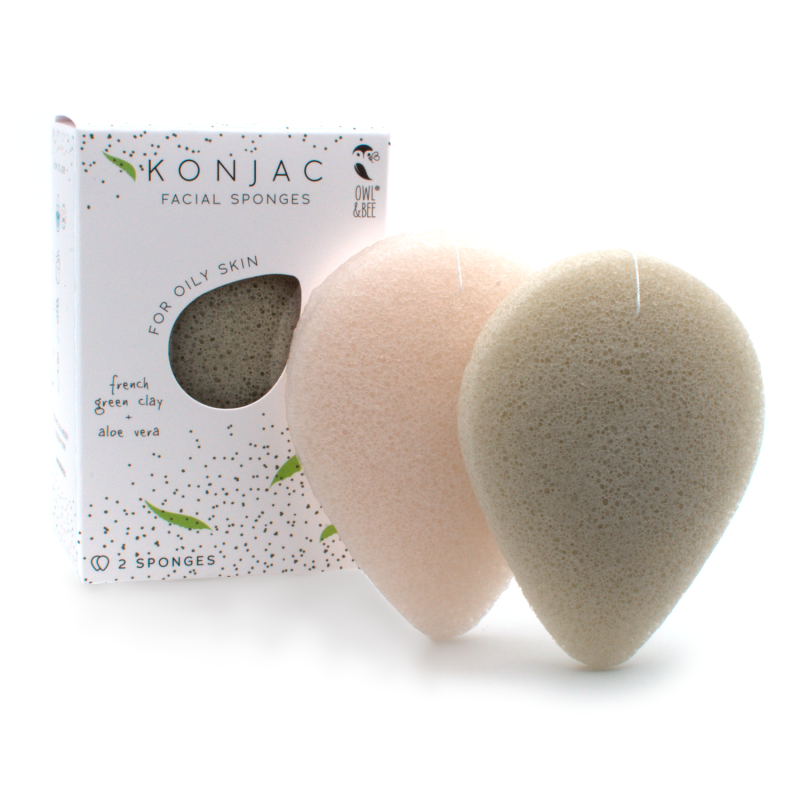  
Konjac facial sponges
For oily skin
This 2-pack of natural Konjac facial sponges are ideal for oily skin. Start your daily cleansing routine with French green clay, for deep cleansing and pore refining. Moisturise and massage with aloe vera to relax and unwind at the end of your day.
french green clay
for your daily cleansing routine
aloe vera
to calm and
remove impurities
Oily skin can be a challenge, so we've carefully chosen two of our fantastic Konjac facial sponges in this pack to help you regain control of that lovely face of yours!
For deep cleansing and pore refining, we have infused french green clay in our konjac sponge. French green clay is ideal for helping draw oil and other impurities from your skin, while still being gentle enough to avoid any drying or flaking.
The second sponge included in the pack is infused with aloe vera, an ingredient often used to help soothe, moisturise, and treat oily skin, and is perfect for regular cleansing.
Both sponges are shaped perfectly in a tear-drop shape, which is ideal for being able to reach every part of your beautiful face!
Owl & Bee® konjac sponges do not contain colourants, perfumes, or preservatives — we keep our sponges totally natural, and never add any additives, and we proudly advertise our ingredients so you can be sure you are only getting the highest quality Konjac sponge possible.
As this sponge is an entirely natural product, made from plant materials, we recommend replacing your sponge every few months to avoid skin irritation, particularly if the sponge is consistently stored in a humid environment.
Every one of our konjac sponges is entirely biodegradable, ethically produced, and certified vegan.
Zone

Face

Skin type

Oily skin

Vegan certification

The Vegan Society

Height

12.0

cm

Width

5.4

cm

Depth

8.4

cm

Gross weight

30

g

Reference

KS102GA
Packaging
Packaging and its impact on the environment is always at the forefront of our minds because it's necessary for hygiene and practicality reasons. We always work hard to ensure that the packaging is only the bare minimum required, and all packaging is sourced as close to the factory as we can.
We do not use plastic to shrink-wrap our konjac sponges, and instead we seal the box up tightly so very little moisture can get in to affect the sponge before you can use it, keeping it fresh and hygienic. This way, the entire package — sponges included — is entirely biodegradable and has no impact on the environment if it was to be improperly disposed of.
The box is made using certified Forest Stewardship Council (FSC) paper, rolled in a way to give a luxurious look and feel. The box is sealed with tamper-evident seals to ensure the sponges remain hygienic and fresh. The "window" into the box on the front is made from cellulose acetate — a natural plastic made from wood pulp — which is safely biodegradable, and can be recycled in the paper recycling along with the rest of the box.
Using our Konjac facial sponges is easy! Just follow these simple steps:
To prepare your Konjac facial sponges for use, first soak each sponge in water. When the sponge is new, it should be ready to use in about 30 seconds, but it may take up to 2 minutes to be rehydrated if it has been dry for a long time. To save water, we recommend soaking each sponge in a shallow bowl filled with about a cup of water.

Rub the sponge on your face to gently cleanse and exfoliate. Each sponge can also be used with a shower gel or cream, but it's not necessary, however if you do use an additional cleanser with the sponge we recommend you continue to use the same cleanser with the same sponge to avoid mixing cleansing products within the sponge.

Two sponges are included in each box, where one is ideal for your morning cleansing routine, and the other for your evening cleansing routine. For best results, we recommend using the sponge from the front of the box as your main cleanser, such as after shaving or before applying make-up. The other sponge at the back of the box is ideally suited for cleansing oil, make-up, or other impurities from your face at the end of the day.

When finished, gently crush the wet sponge to eliminate excess water. For best results, try not to wring or twist the sponge as it may cause the sponge to weaken or tear.

Finally, use the convenient integrated cotton string to hang the facial sponge to dry until your next use. Keeping the sponge in a well ventilated area so that it can dry will greatly extend the lifespan of the sponge.
French green clay

Amorphophallus Konjac Root Extract Powder

(

Konjac

)

Illite

(

French Green Clay

)

Aloe vera

Amorphophallus Konjac Root Extract Powder

(

Konjac

)

Aloe Barbadensis Leaf Juice Powder

(

Aloe Vera

)
You might also like